a dairy museum (2012)

Invited to realise a project at MOSTYN as part of Artes Mundi 5, I decided to reflect and echo the work of Radovan Kraguly ( born in 1936 and brought up on a small farm near Prijedor in the former Yugoslavia, now Bosnia–Herzegovina) , by, amongst other things, building a scale model of one of Kraguly's early drawing propsals from the 1990s for a Dairy Museum, in collaboration with Littoral Arts.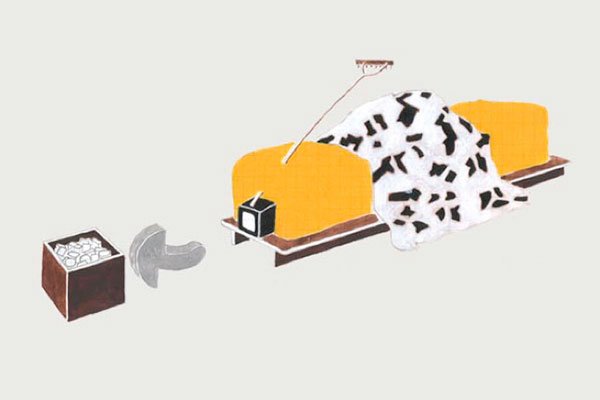 This temporary structure will host a museum within the gallery, in this case curated by local dairy farmers, invited to contribute some of their significant objects, texts, and other materials. It will also become a working platform or stage for meetings and discussions on the current critical situation of dairy farming and other rural issues. Members of local Young Farmers Clubs are also invited to adopt the platform as a catalyst for use in their activities and events and a stage for streaming live TV.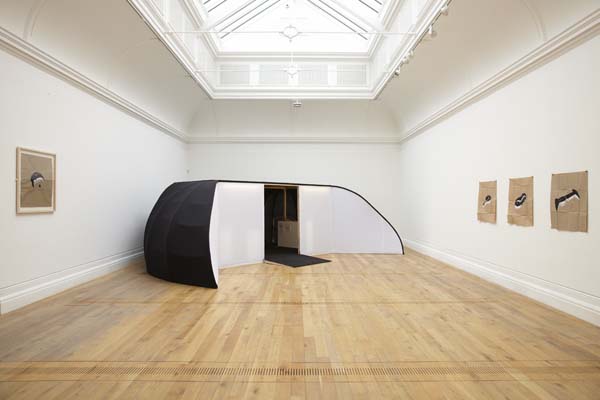 In the early 1970s Kraguly first visited Wales and soon after bought a farmhouse deep in the countryside near Builth Wells. He started then his work on dairy farms and cows, that is still central to him 40 years later.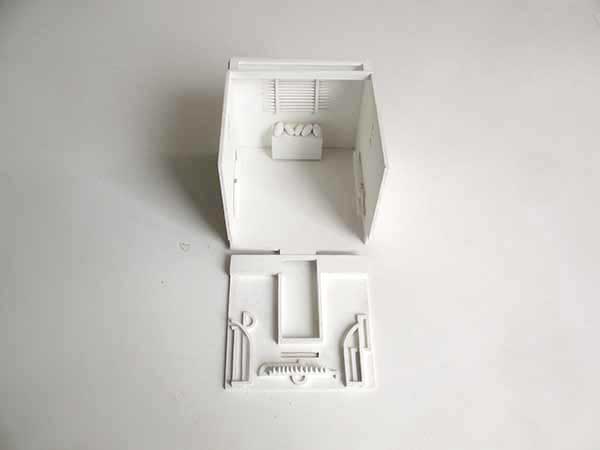 I took a leading role in curating by carefully selecting key pieces from Kraguly's oeuvre from nearly forty years has created a dialogue and artistic discourse between two generations, observing the role of the artist as commentator and communicator, activist and archivist, presenter and producer.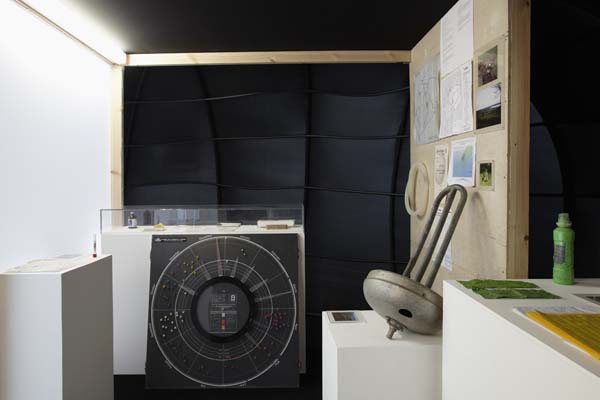 My part in the show reflects this transition and links my practice to that of Kraguly's by choosing to re-enact and recover some aspects of Kraguly's work. Re-enacted piece # 1 recreates a lost study for an installation piece called "Processus" that was exhibited in the gallery at Chapter, Cardiff in 1997 while Re-enacted piece # 3 proposes a libretto addition to a dance-performance devised by Kraguly in 1988, to be recreated for MOSTYN in 2012.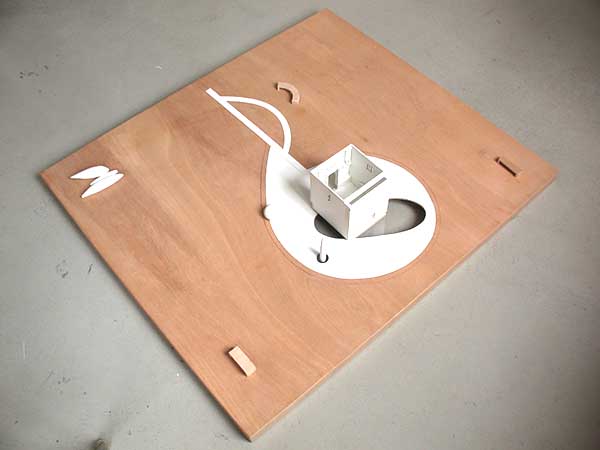 Re-enacted piece # 2 presents a recorded conversation between García-Dory and Kraguly, staged in a workshop setting in Glynllifon, north Wales where Kraguly talks about his desire to design and realise a National Dairy Museum. This conversation, a recreation of a conversation held previously at Kraguly's studio in Paris in August 2012, concentrates on how Kraguly envisions the project developing in the future and how he sees the Dairy Museum not only as a building but as a holistic architectural-sculptural whole that merges farming, art, science, education and training.
By turning Radovan's interest into an useful tool for shaping an artistic intervention I decided to construct a model, Re-enacted piece # 4, as a platform to make visible the culture of dairy farming and agricultural production in this area of north Wales. A temporarily erected structure acts like a museum within the gallery, curated with a selection of objects, texts, and photographs loaned by local dairy farmers. From a cherished photograph of a family member in a Young Farmers Club celebratory group portrait in the 1950's to the computerised breakdown of individual cow milk yields that is increasingly part and parcel of today's modern farming practice, the items give a small snapshot of a world that is obscure to the majority of us but touches all our lives as we buy milk from the local shop or supermarket.
The re-enacted Dairy Museum is also a catalyst for debate and a platform to invite local Young Farmers Clubs to establish their own Dairy TV Channel allowing continuous dialogue between the farming community and bridging communication with the general public. The project also aims to show the farming community that art can be a useful force to make the point that farming isn't just about producing food, the environment and landscape but is also about the production and guardianship of culture. By encouraging social engagement and empowerment I try to draw on the essence of Kraguly's work - pace, attention, dedication, nurturing and growing - elements that remain central to good animal husbandry and a vital farming community,
This project was shown from 23rd September until 6 January 2012, with the Dairy Museum central to activities and talks.
An introduction to The Milky Way by Radovan Kraguly is now open in Gallery 1 with the main exhibition opening in Galleries 2 & 3 with a special performative event at 6.30pm on Friday 19 October.
The concept for a Dairy Museum will be discussed at 11.30am on Sunday 21 October when Ian Hunter, Director of Littoral Arts Trust, will join Fernando García-Dory and Radovan Kraguly.
At 2pm, 21 October I extend an open invitation to local farmers to attend a meeting where current topics affecting the agricultural industry will be the focus of discussion.
A Dairy Museum was made possible in association with Artes Mundi, as part of an initiative aimed at deepening the links between the Welsh and international art communities. This is the first in a series of collaborations with Mostyn that will expand Artes Mundi's programme beyond Cardiff.
"The action of reproducing previous existing work is a statement in itself, abandoning all judgment and concentrating attention on another artist's work. The deep vision and imaginary world of Kraguly then becomes a vehicle for me to cultivate contemplation, attentiveness and empathy, at herbivorous ruminant pace. By emptying oneself and abandoning the demand of giving birth to new form, the re-enacting artist can concentrate on the automatic action itself. Drawing, writing, as milking."
Re-enacted piece # 1
Drawing "Processus"
Acrylic on paper, printed catalogue page
I found a catalogue depicting Radovan Kraguly's works from 1990 to 2004. On page 21, there is a picture of an installation titled "Processus" exhibited in 1997 at Chapter Gallery Cardiff. The other picture on the page is a study for that installation, titled "Processus" as well. The drawing was lost sometime between 1997 and 2005. The size of the original sketch is also unknown. For this piece I decided to use a standard 70 x 45cm paper
Re-enacted piece # 2
A conversation with Radovan Kraguly on the Dairy Museum.
I met Radovan Kraguly in his studio at Rue Quincampoix, Paris, for the third time on August 12th, 2012.
We had a conversation about the Dairy Museum project he had been working on for the last years, and how
he envisioned it developing in the future. The project would comprise a series of further designs for a farming
complex composed of architecture-sculpture works.
In September 2012, back in North Wales, I prompted the same conversation to be recorded in a workshop in Glynllifon in Clynnog Fawr, near Caernarfon. This resulted in a 14 min video piece.
Re-enacted piece # 3
Cover for libretto. Printed photoga–es. VHS casette.
Over the summer of 1988 Radovan Kraguly, during an artist residency in Omaha, Nebraska (USA), wrote a dance-perfomance piece titled "La vache dans l'imaginaire de Kraguly" in collaboration with choreographer
Dalienne Majors.
The title was wrongly translated into English - in a catalogue from 1998 - as "The Imaginary Cow of Radovan Kraguly". A more accurate translation would have been "The Cow in the Imagination of Radovan Kraguly".
I found some pictures of various performances.
The piece was performed for the –rst time in 1989 in the Museum of Modern Art of the City of Paris (Fig. 1)
In 1990, Kraguly changed the title to "Le Voies Lactées de Kraguly", and performed it in Sucy en Brie, France
(Fig. 2)
The same year it travelled to Sarajevo, but there are no pictures.
In 1992 the performance was presented again in Chapelle des Lazaristes, Tour, France.
The original choreography is recorded in a VHS tape I have been still not able to watch.
Based on the situation and characters as given in the pictures, I started to write a personal interpretation of the choreography, plot and dialogues for a possible libretto for the performance.
As from the opening of the exhibition I will be sending pages of this libretto to be printed and added to the cover as a proposed performance for the opening of Kraguly's exhibition on the 21st October 2012
Re-enacted piece # 4
A Dairy Museum
Radovan Kraguly's project for a National Dairy Museum began as a commission by Littoral Arts. He developed the idea through an extensive series of sketches, maps and models. Although never built, it is still central in his work. I decided to build a scale model taking my height as a unit of measurement. The model hosts a collection of diverse items loaned by dairy farmers in North Wales and functions as a temporary musum, communication device and discussion set where local Young Farmers Clubs are invited to launch their own Dairy TV channel.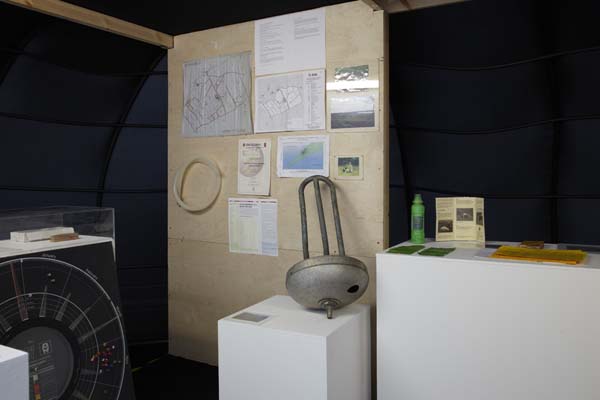 Read review at Artmonthly by Chris Fitte-Wassilak issue clicking here