Land,use. Blueprint for a New Pastoralism (2012)

This is a multipart collaborative work with Amy Franceschini commissioned by the David Brower Foundation at the Hazel Wolf Gallery ( San Francisco ) , in which we wanted to address and combine issues related to the traditional shepherd lifestyle, contemporary pastoralism, and directions for a new environmental movement.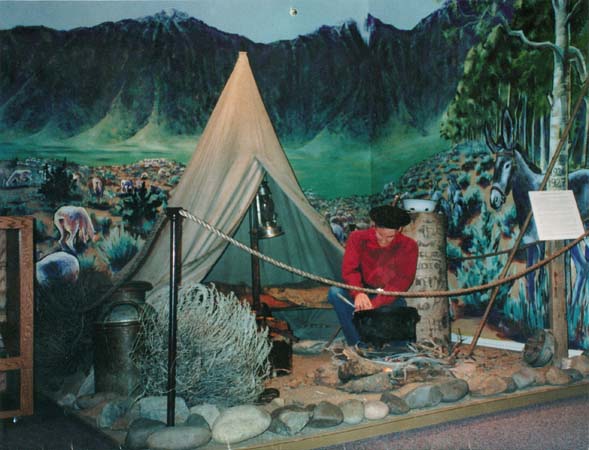 After considering different directions for the work, for example by collecting the memory of the Basque shepherds community, my interest was placed in the Brower Center itself. Following the mission of its founder, this huge building, made of eco-concrete, today hosts around twenty environmental activist organizations.
During the first visits it was the atmosphere of the building that we found the most striking, with offices isolated one from the next, institutional meeting rooms and grey carpeted floors. With corporate culture having permeated what was once an alternative radical movement, communication become less direct.
To "break the ice" I proposed to prepare some ice-cream, and organized an ice-cream social in the terrace of the building. It was prepared with local cow milk and flavored with fennel collected from San Francisco hills.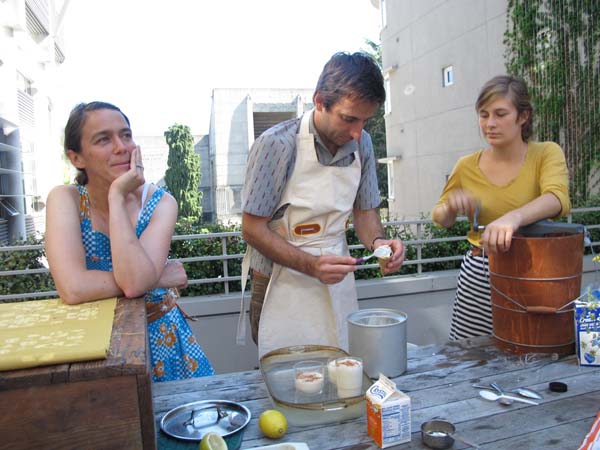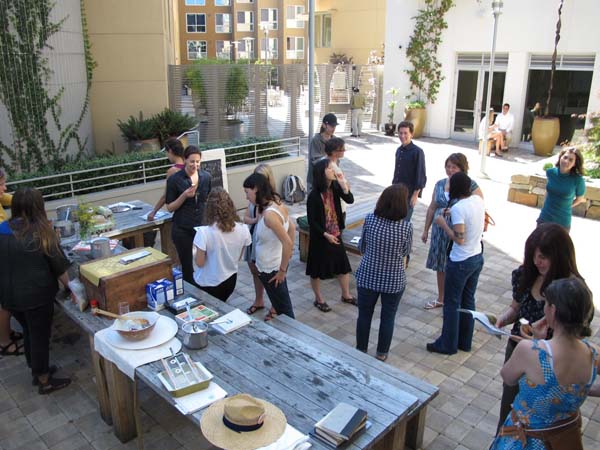 We hosted some conversations and soon realized how disparate some of the activists´ strategies were. The diversity laid between their means and their ends, and how a heavy architecture both physical and organisational finally imposes obligations that can end up with the flexibility and spontaneity one can see in other radical grassroots environmentalist groups.
This was different as well from the adaptive and "light" strategies we observed amongst mobile and nomadic pastoralists, as well as in indigenous and peasant cultures.
As the first step of a kind of experimental "agroecological coaching" for some of the activists, a questionnaire was written and distributed.
This information guided the organization of a discussion to which we invited different key activists on land and farming issues in the Bay Area. The idea was to transform the gallery space to host this gathering. The installation was titled Blueprint for a New Pastoralism.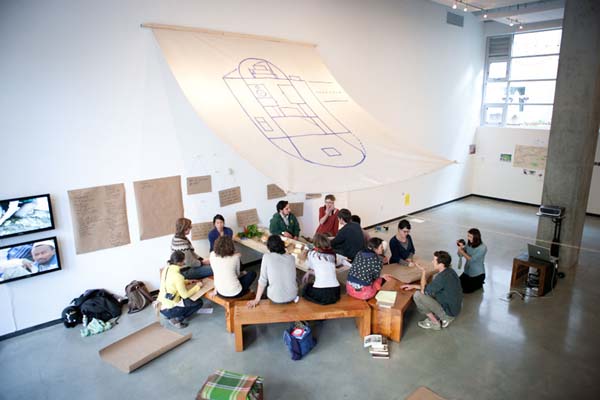 Blueprint for a New Pastoralism consists of an installation formed by the sculptural temporary gathering space, a participatory event and ephemera from that facilitated discussion about land use.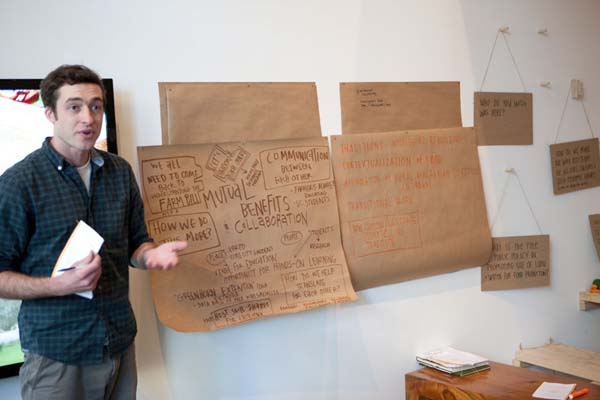 The blueprint of a shepherd's wagon is drawn onto a large canvas, providing the focal point for this constellation of objects and activities. Drawn together by Franceschini and myself, this flat plane transforms into a makeshift roof, paying homage to nomadic pastoralists who directly manage land and other resources to create productive communities. Below the roof, a wood wall sculpture folds out to create a table and benches. When the roof is up and the sitting area is established, this temporary shelter offers a meeting space for discussion and dialogue.
The idea was to be able to unfold the narrative of the shepherd and reactivite it in our present day.
On the 18th February 2012, this space was used for the facilitated conversation among land use experts, activists, and other community members, called "Strategies of a New Environmental Activism." You can read the program and biographies of the invited activists here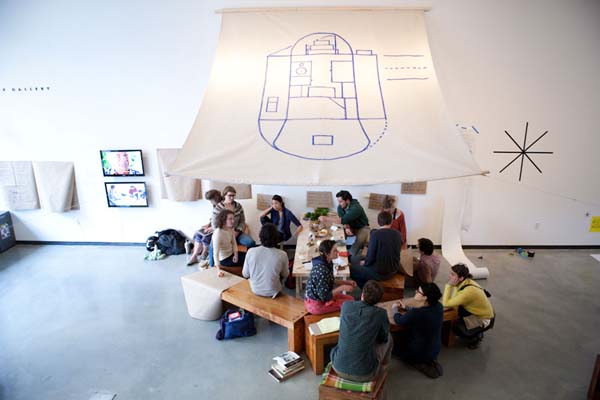 Documentation of the group's questions and process remain on view in the gallery. As a physical space and an invitation for constructive conversations about contemporary land issues, Blueprint for a New Pastoralism was intended as well as a toolset for education and advocacy.
The exhibition began with a survey of individual past works titled ´Land, Use´ and concluded with the collaborative work explained above.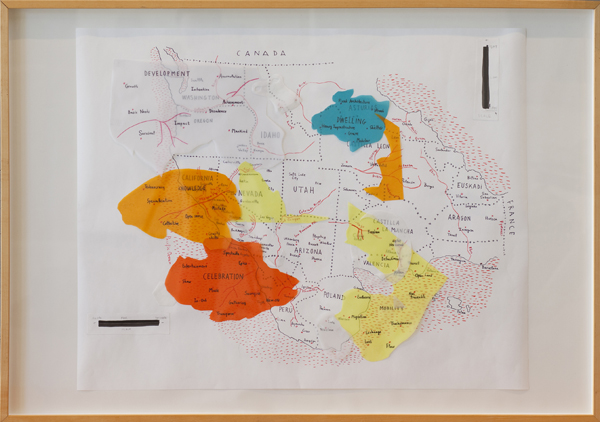 The whole intervention and concepts and ideas raised during the process were as well condensed in a map of an imaginanry territory, mixing geographies that were close to us, and superposing conceptual parameters, titled "Five Myths and Six Directions".
Communities and traditions around the world have been broken apart by land development, the transformation of territory and its economics, and stark differences in values around land use. This is especially true for farmers and pastoralists who depend on productive strategies and direct management of land.
From farming and seed libraries to the livelihood of nomadic shepherds … what does "preservation" mean when it comes to tradition, land, and knowledge? This exhibition explored these questions and conflicts while charting the creative commonalities between myself and Amy Franceschini (San Francisco, CA). We share common interests and similar approaches.
Using social practice methods, such as direct engagement with practitioners of pastoral or agricultural livelihoods, they explore themes related to humankind's collaboration with the land. As part of their art practice, they learn – and enable others to learn – from farmers and shepherds who hold knowledge of crafts passed down through generations. Through their work, each artist seeks to foster the preservation of tradition, memory, and the transfer of knowledge.