inland (2010-...)
In 2005 I proposed the creation of a Comission on Rural Arts within the state level grassroot organisation Rural Platform. A project to breath life into it was seek with different attempts. Finally in 2010, the project take shape under the name INLAND- Campo Adentro: arts, agricultures and countryside.
INLAND is a project that examines the role of territories, geopolitics, culture and identity in the relationship between the city and the countryside today. It´s aim is to introduce the possibility of contemporary art practice in relation to the rural, and how that context might modify the way art happens and circulates.
The project focuses on the economics of art and land, organised utopia, and the ways we interact with the biosphere. INLAND is envisioned as a para-institution of "polyvalent specialist mobile units working in emergency contexts" that always operates "in relation to an 'official' institution, that is, a state, a company, or an art institution." This provides an entry point to think about the "growth of social formations, from a social movement to a state to a multinational chain."
It started launching a cultural strategy in support of rural life over a period of three years (2010-2013), specifically made up of an international conference, artistic production twith 22 artists in residence in the same number of villages across the country, and exhibitions and presentations.
This was followed by a period of reflection and evaluation ( 2013-2015), launching study groups in Netherlands and Spain, and series of publications.
It continues now extending its methodology in different countries ( in 2015 is operating in Italy, Netherlands, Finland and Germany) to question harmful EU policies regarding the rural, and culture, and recovering an abandoned village as organisation´s headquarters and "community of practice".
Today INLAND functions as a group to open space for land-based collaborations, economies and communities-of-practice as a substrate for post-Contemporary Art cultural forms. Appearing in different forms in different countries, whilst dissolving individual agency in the collective, INLAND Europa publishes books, produces shows, and makes cheese. It also advises as a consultant for the European Union Commission on the use of art for rural development policies, facilitates shepherds movements, and is promoting access to land in different locations for collective artistic and agricultural production
The project provides artists, farmers, intellectuals, rural development agents, policymakers, curators and art critics, amongst others from the rural and urban spheres, with an open platform for presenting their research and practice. The content is gathered here before it is conveyed to the rest of society.
It has been shown at Istanbul Biennale 2015 , Casco Art Projects Netherlands 2015 , PAV Torino Italy 2015 , Maebashi Museum Japan 2016. In 2017 it will be present at CCA Glasgow, MAMM Medellin, MALBA Argentina, BAU Bolzano, FHU Puglia and is supported by Council of Forms, Paris.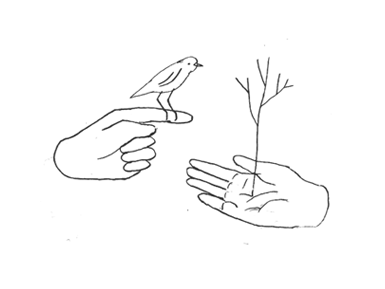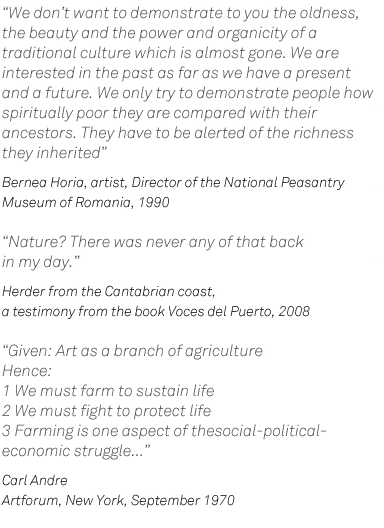 More information at www.inland.org
and www.campoadentro.es/en